Effective security is a full-time job, and our security team works around the clock to protect you from the loss, misuse, or unauthorized alteration of your data. We employ state-of-the art technology, management practices, and physical security to keep your data safe. (You can enhance the effectiveness of our safeguards by creating passwords that can't be accessed, guessed, or reproduced by unauthorized people.)
The focus of our security efforts are to ensure there are no unsecured "back doors" into the application.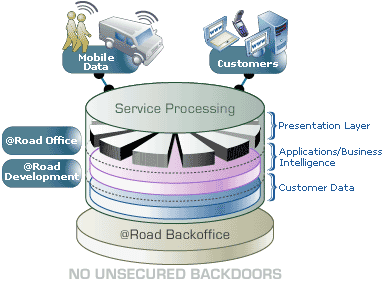 The security infrastructure employs a series of gateways, much like secure doorways into the system, that (1) authenticate users attempting to enter the system, and (2) monitor all user activities and whereabouts while within the system.
In addition, the GSM/GPRS protocol employed by wireless networks includes over-the-air encryption/decryption to protect data while in transit. Wireless carriers themselves—in addition to other third party vendors—may provide an added layer of encryption and authentication, as well as wireless data compression for enhanced speed and security.
Data Backup

Regular backups of your data are an important part of our standard service. In addition to daily backups, we conduct full system-wide backups every week, and store the data in a separate, fire-safe facility. We also perform frequent hardware and software upgrades, providing you with the highest possible levels of availability, performance, and disaster recovery.

@Road backups:

Privacy

We believe your private information should stay that way. Therefore, we've adopted strict guidelines and practices to ensure that your confidential personal and/or business information remains secure. For more information, see our in-depth Privacy Policy.

Please note that part of the responsibility for privacy lies with you. Make sure that only your authorized employees access @Road and that you change your password on a regular basis.

Data Storage

@Road provides secure, confidential data storage. Your data is held behind a secure firewall system. Data backup is done daily, with a weekly full-system backup stored in a separate, fire-safe facility. Secure connections keep your data and passwords completely confidential. @Road is equipped with high-speed processors, extensive memory capabilities, and redundant power supplies to provide high levels of availability, performance, and disaster-recovery. For more information, see our security policy.

As part of our standard service, your data is stored for 14 days. For organizations that wish to retain data on @Road servers for a longer period of time, we offer an Extended Data Storage option.